Around here, we are getting into vacation mode!! I am so ready for warmth...and a break away to watch my littles have some fun in the sun. And it (vacation) is fast approaching (among other things in our lives!) We are a short two months away from vacation and I feel like I have got a ton to do.
So, that's not just a feeling. I really DO have a ton to do!! I've been researching the internet lately for some inspiration and how to's on just about everything! Here are some of the things I like...
First up: I plan to make some lap desks for each of my kids so I've been checking out some tutorials.
Here are a few I like but have yet to decide which I will choose:
Chalkboard Cookie Tray Lapdesk from Elle Belle Creative
DIY Lapdesk Tutorial from Pleased as Punch
Cookie Sheet lap desk from This Heart of Mine Blog
I like this one because the "pillow" is attached by velcro (removable) instead of hot glue.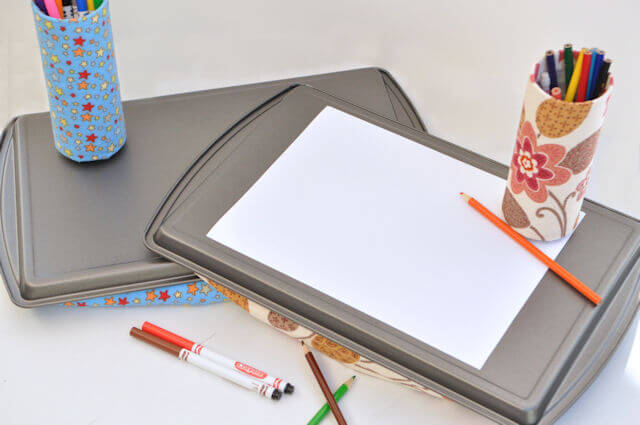 Chez Beeper Bebe: Kids Travel Desk
I love this one for the pockets on the sides but I'm NOT a fan of the fabric on top. Seems to me like there's got to be a better way to incorporate this idea with one of the previous ones. Hmmm...
These next few are some games that I think would work well in the car: some for older kids and soem for younger ones.
Having Fun at Home: Treasure Box Game
Magnet Travel Games by Ladybird Lane
Not all of these games would be appropriate for my kids, but I DO like the alphabet matching one. This would be a good one for my 2 year old and possibly the 4 year old.
In going with the magnetic theme from above, I really like this next one!!
And another from
Elle Belle Creative
are these GREAT magnetic paper dolls!! I can't wait to try this out!
Skip to My Lou has this great string game
Last spring I did a series on traveling with kids...specifically activities for the long road trip but there are a few other tips interspersed as well. If you'd like to check that out, here ya go:
Touring Tuesday Travel Series
One of the things I made for last year's vacation was a
travel tray made from a cookie sheet
. This worked great...but when we went to clean out the van this past Monday (after the winter of nastiness) I found that the cookie sheet portion had rusted really bad!! Not something I really want my kiddoes playing from, so we pitched them. In theory and in usage, the idea was great...but the materials don't hold up. I would recomend possibly using a plastic tray or aluminum cookie sheet. The lap desks I plan to make are similar in function but will not strap to the carseat like the travel tray did.
Do YOU have any great ideas?? Would love for you to share a link in the comments if you know of a great activity or travel tip!